Full Length Plays
Three black women find themselves confined to a space; the kind that doesn't allow visitors. It isn't the first time but hopefully, it will be the last. Natasha wants to escape for good; Judi wants to sleep; and Sophia just doesn't want to end up left alone. Meanwhile, this trio of "sistas" will do what they can to survive their circumstances and each other.
Developmental History

Workshops

Rites and Reason Theatre PlayLab (2009)

Brown/Trinity Rep - Playwright's Lab (2013)

Manhattan Rep Play Development Series (2015)

POTPOURRI World Women Works (2016)

Rising Circle Theatre Collective PlayRISE & INKtank Lab (2016)

Productions

WEST COAST PREMIERE: Syde Ide Collaborations (2018)

NEW YORK PREMIERE: Make/Shift (2019)

Honors

Drammy Award Nominee - Best Original Script (2018)
"The Clark Doll is timely and well crafted. Liz has captured where Black people have been, where they are and where they could remain emotionally, socially and spiritually..."
- Kim Weston-Moran (Producing Artistic Director of RhythmColor Associates)

"The play was unapologetically political without being preachy or self-righteous. The entire presentation embodies the perfect marriage between concept and structure."
- David Mack IV (Film Director & Blog Writer)
BREAKING & ENTERING
Set in Atlanta, a city divided along race, class and ethnic lines, this coming-of-age story tracks Lola, a girl with a privileged and unique upbringing as she tries to find some sort of companionship in Damian, who isn't quite her parents idea of the boy-next-door. They don't come from feuding households or warring gangs, but what begins as lighthearted quickly becomes life-threatening. Even the best of intentions to connect can lead to upending consequences in a world meant to divide. In this intersectional tragicomedy, we explore how love can be blind in a world where justice never is.
Developmental History

Honors

New Works Lab at Stratford - Semi-finalist (2016)
DELIVER: LETTERS TO THE MOTHERLAND FROM A FOREIGN BODY
This poetic homage to immigrants focuses on three characters who all find themselves feeling unsafe in the place they call home: A young black doctor practicing medicine in rural America; her patient, a pregnant woman with a dark past; and a mysterious foreign body who must journey to a new world.
Developmental History

Amios Theatre Company - First Draughts Reading Series (2017)

Fresh Ground Pepper - PlayGround PlayGroup (2017-2018)

Honors

Playwrights Realm Writing Fellowship Semi-Finalist (2017-2018)

The Kilroys List Honorable Mention (2019)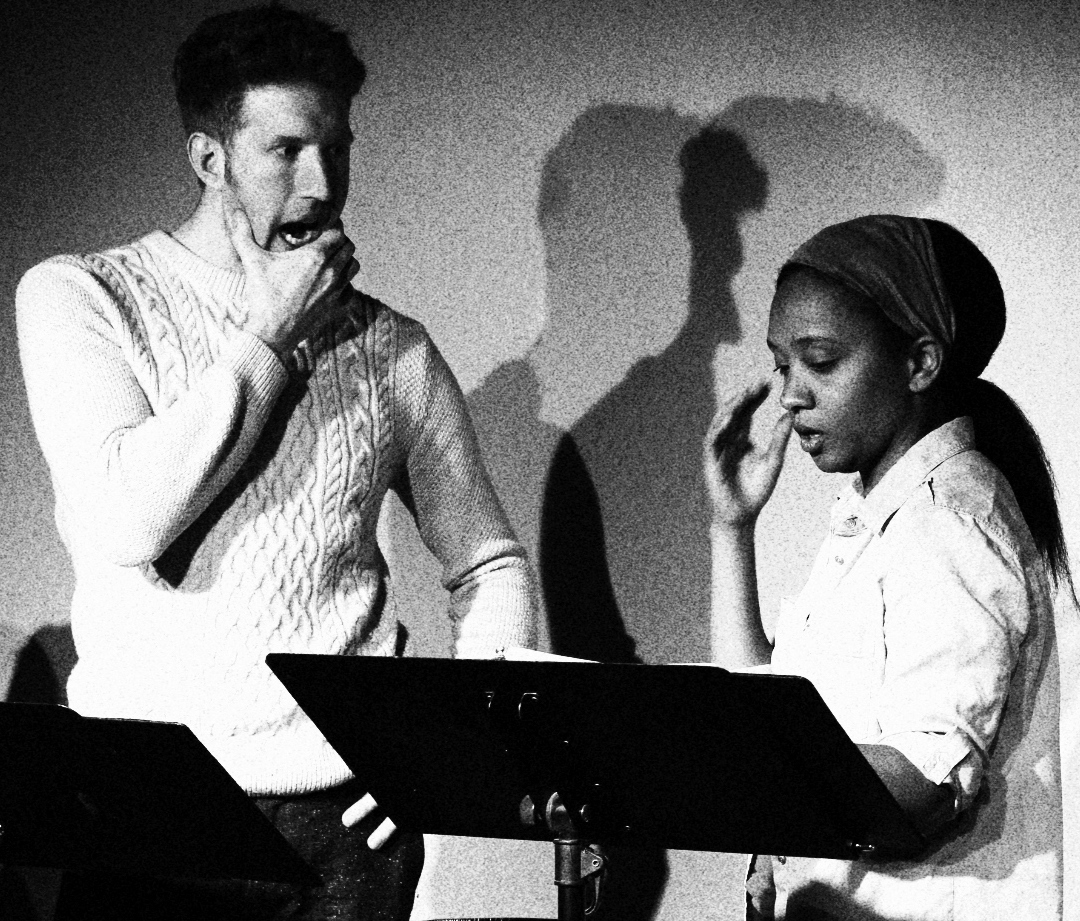 "The play is as full of heart as it is of longing as it explores a desire for connectivity and finding a sense of belonging in the world. [Morgan has] a fluidity with poetic language and deep understanding of rhythm..."
- Katherine Kovner (Artistic Director of The Playwrights Realm)
"I am very thrilled specifically by Liz Morgan's Playground play Deliver: Letters to the Motherland from a Foreign Body, because the politics of it exist within the characters and their perspectives toward one another. The politics are rooted in the fibers of their being."
- Jaclyn Backhaus (Co-Director of The FGP PlayGround PlayGroup)
OUR FATHER
P.J. has spent a long time living in his father's shadow but when he decides to write a biopic about his legendary "T.V. Dad", his career finally starts to generate the kind of momentum he's always wanted. He's got the best representation team money can buy but can they save him when real life drama threatens to tarnish the legacy of his beloved family sit-com?
Developmental History/Honors

The Fire This Time Festival - New Works Lab (2017)

Liberation Theatre Writing Residency Program in collaboration with the C-MORE Festival at the cell (2018)

SPACE on Ryder Farm (2017 Creative Residency Finalist)
"...a thought provoking and timely exploration of the effects of fame and complicity in the age of #MeToo"
- Bernard J. Tarver (Associate Producer of Liberation Theatre Company)
One Acts/Ten-minute Plays
A MATTER OF TASTE
a short satire about an interracial couple and the politics of preference (now published and available on Amazon)
Developmental History/Honors

Brown/Trinity Rep - First Look Festival (2011)

Abstract Sentiment Theatre Collective Block & Talk Series (2014)

The Secret Theatre - LIC One Act Festival (2014)

Nomination: Best Play

Win: Best Actress - Emma Thorne

Manhattan Rep Fall One Act Festival (2014)
TRANSFER: THE DUTCHMAN'S ROUNDTRIP
In this response piece to Amiri Baraka's "Dutchman," the black everyman is resurrected. On his trip downtown, Clayton will prove once and for all, at any cost, that the subway belongs to him.
Developmental History

NY Madness - Put On Your Face Edition (2017)
PROJECTION
a ten-minute science-fiction play about the dangers of living in the past
Developmental History

Amios Theatre Company - SHOTZ to the Future (2014)

Codify Art (2014)
Solo work
DEEP $H!T
It's her five-year college reunion and the writing is on the wall for Liza when she ends up in a public restroom with no toilet paper. This comedic one-woman show inspired by the bathroom stall graffiti at Brown University interrogates our need to be seen, our failure to communicate and the deepness of our collective shit.
Developmental History

Brown University - Solofest (2010)

Judson Arts Wednesdays - Magic Time (2017)

Quick Silver Theatre Company - Playwrights of Color Summit (2019)
"Smart, emotionally complex, downright hilarious performance...beautiful writing...a cast of colorful characters brought to life by one beast of an actor!"
-- Cynthia G. Robinson (Co-Director of The Fire This Time New Works Lab)
"An exquisite poem on why Black Lives Matter"
-- Afternoon Rush, nationally syndicated radio show
"Liz Morgan turned a mundane commute into a powerful portrait of black fatigue"
-- 39 Reasons We Won't Soon Forget 2016 by Medium
"Powerful stuff"
-- Outspeak, online video network & opinion outlet
Other Awards & Honors
2017 Torchbearer for Black Theatre

2016 National Black Theatre I AM SOUL Playwrights Residency Finalist

2013 Davis Wickham Prize for Excellence in Playwriting

2006 Seth Gaynes Memorial Award for Creative Writing
Follow her on Medium to read more work or contact Liz directly for any inquiries.